G.S. Anitha is the chief deputy police commissioner of Nellai. In the year 2009, he was selected for police service by the Tamil Nadu Government Service Commission. He served as Deputy Superintendent of Police in Ooty and as Additional Deputy Superintendent of Police in Coimbatore and Erode districts. He worked as Deputy Principal in Thoothukudi District Police Training School and has recently been promoted as Chief Deputy Commissioner of Police, Nella. From talking to him…
Regarding the post of Deputy Commissioner of Police…
"We never discriminate between men and women in the police department. A police officer is our identity. Also, one of the perks of being a female officer is that a lot of people approach people with a mindset that they can easily understand their mindset. They believe that a woman can feel their pain and suffering. So people can easily approach women officials and make their demands. Moreover, they must have a fear of not believing that they will resolve our grievances or decide in favor of the opposite party. We break that thought and make them believe in the truth and get justice for them. I see this as one of the honors of this position."
Challenges faced by women in policing…
"If there are challenges for women, now on the advice of the Chief Minister, we are looking for favorable places for women when Bandhopastu is held. Moreover, we only give them duty at those places if facilities like washrooms are nearby for them. Things have changed a lot, like once upon a time, gangs would get into vans and go there to watch pantopast."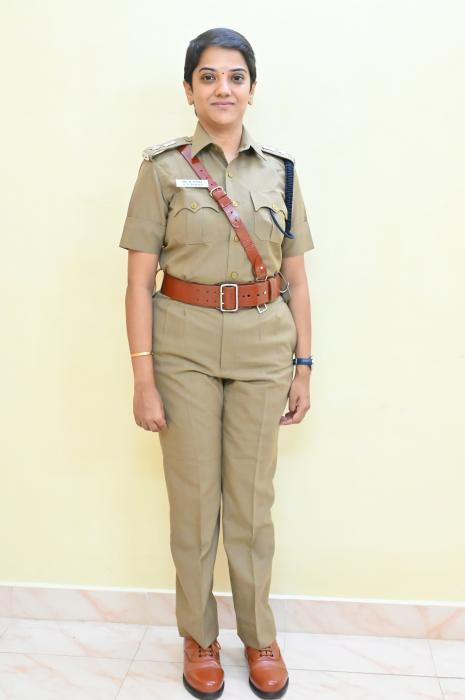 What is the ultimate weapon for women today?
Education is a great weapon for women to claim and retain their rights. Women should never give it up. Education is the only reason why women have got the same strength as men today. Education is the reason why women are equal to men in all fields today. Only that education should be held firmly by women. Don't let go. Education is the greatest shield of women in all ages.
Above all, parents should teach children of both sexes, not only girls, but also the mindset of accepting success and failure without instilling the idea that success is the only goal. Only then will women not take failure too seriously and in such an environment easily ignore it and get the courage to move forward towards the next stage of success. I also see this as a life education that everyone can learn from. Because success is not life, failure is life. We have to provide them with the opportunities that they can overcome.
Society's contemporary view of women…
"Of course that's changing. Today in all the families women are being given their due rights. A lot has changed in this period compared to previous periods. In particular, there is no barrier to the advancement of women in education. Even so, the number of women who are breaking down those barriers and running and jumping has increased today. They have acquired the ability to resist and break when oppression is thrown at them. I really welcome such women.
But, at the same time, they should not misunderstand the beautiful concept of equality of men everywhere, as a single enemy – animosity – that they have to come only by competing against men. If you think so, it is also wrong. Create opportunities for men as much as they have. Women should not do the same mistakes that men do. Using all that, if a woman reaches a high level of responsibility, this society recognizes her in all ways without discrimination between men and women. Consequently, I am very happy to see that the gender bias towards children has decreased to a great extent among the parents I see today."
Your role model?
"My role model is Kiran Bedi madam. I belong to a business family. I have never seen anyone go to work in my house. At that time I still wanted to go to work. That, too, should not be mundane. My intention is to go directly to a job of service to this community. It was a dream. After that my husband understood my intention to get married and was very supportive. Only after that I was able to study and come to this service. Little did I know that we were coming to the service of the police department. It was only after I realized that I was going to work in the police force that I became attracted to it. At that time, the person who attracted me the most in the police department was Kiran Bedi madam. The first impression was on him. It has not changed till date. I like him that much. I have read all the books written by him."
The experience of stepping into the police force…
"This is my first job. I have never had any other job before. When such is the case, there is no order in our daily occurrences. It cannot be expected. The police department I came from was not like that. Discipline in the police department is given top priority. In that way, the importance of time should be strictly adhered to. That is, if it is early in the morning at 4 o'clock, we must wake up at 4 o'clock. This is how you should talk. This method should be followed. If this protocol is to be followed, then so be it.
At first this practical environment was not set for me. Because there is a fear that we will be able to do it until we are set. And then, the joy that comes after the set, it's unique. That joy is the joy of a mother who has given birth to a child. With that kind of discipline, our physical and mental health will start to feel super. If we accept it, love it and start enjoying it every day, we will see such a confidence in it, it is a special kind. And even for those who think they can't handle it and run away, we've achieved so much… if we take one more step, we'll be even more successful. They will complete that training with the thought of ".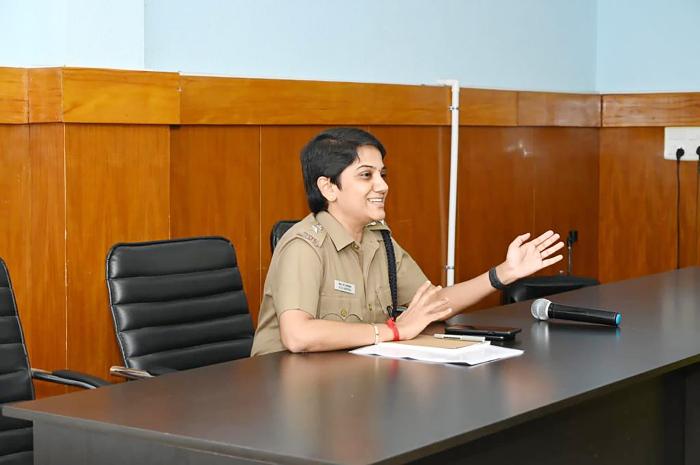 Want to tell women…
"Even if women are competing and progressing, why should women go in the middle of the night as Mahatma Gandhi said… Even if they go alone after 9 o'clock, they will face a problem in some way. It will soon be gone. So the advice I can give to women is don't believe anything anyone says. Believe in yourself. Also, don't crave for likes on social media. Don't expect it. Challenge yourself every day. If you overcome that then your life will be happy ever after."
About your family…
"My name is GS Anita. Chief Deputy Commissioner of Police, Nellai City. I was born in Madurai. Raised in Tarapuram. Marriage took place in Coimbatore. My husband Siva is in business. My son Siddharth is in his second year of college studying Auto Mobile Engineering. Mine is a lovely little family."
About Tirunelveli women?
"I have seen in my personal experience that Tirunelveli women are never nervous. That is, he has to get up early at 4 in the morning and come to the ground for the daily training. As there is a lot of scrub forest there are snakes on the move. So we'll all be saying come safely with torches in hand. They keep ignoring it. If snakes come, they beat them and throw them away. If I were in that place, I would be a little scared. I see similar courage in them in all forms of adversity. They are very compassionate and confident women."
– Contact: gandhiraja.g@hindutamil.co.in